About Us
"Kofee" is the result of a project that began in 2021. Marco Arrigo started looking for a new modern espresso to improve quality at Bar Termini and realised that the UK market is split into two styles.
Espresso in the UK is either a thick old-school Italian or a thinner but higher quality specialty bean, meaning you will only ever please 50% of the market depending on which direction you choose.
We created a beautifully balanced traditional Italian espresso using the difficult higher quality specialty beans. The development process took over twelve months to refine the origins, blend and roasting profile. We're confident that you and your customers will love the results of this meticulous process.
We believe that making a great cup of coffee requires support and education. We dedicate more time into training your staff and keeping your equipment calibrated and clean by auditing regularly.
In the current challenging climate where new and inexperienced staff have been drafted into the industry, it's never been more crucial than ever to invest in training and keep consistent standards.
Our company is founded on a passion to provide the best coffee delivered correctly and backed up by our commitment to service without compromise.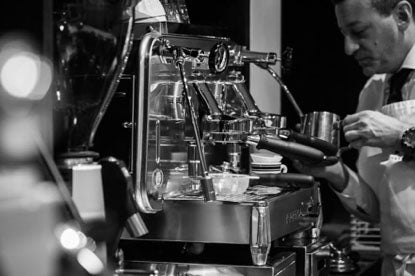 Marco Arrigo
He's been in the coffee game for over 20 years, he is an excellent teacher and has hundreds of stories up his sleeve.
Marco loves to take on complicated subjects and make them straightforward.
He understands quality better than anyone!
1991

Marco started selling coffee around Soho and later to the whole of the UK, being the first person to identify service and training as a vital factor in conquering the UK coffee market.

1997

He opened the University of Coffee, which has trained at least 100 baristas a week for the last 25 years. As Head of Quality for Illy, he organised and ran all the events from Frieze Art Fair to Maserati & Ferrari Racing and London Fashion Week. He also worked with many celebrity chefs.

2015

Marco opened award winning Bar Termini in Soho; winning the observer food award, GQ Award, Conde Nast Gold List Award, Class Magazine Best Bar Award, and ranked 6th best bar in the world (2019). This famous bar takes coffee as seriously as the cocktails.

2021

Marco teamed up with WHO chef Arthur Potts and launched the "Coffee Table" podcast and continues to design coffee/cocktail menus for Royal Yachts and Palaces in the Middle East, Spain, and Nice.
Ricardo Batalha
Meet Ricky, a coffee industry expert with nearly two decades of experience working for a renowned international coffee brand. Throughout his career, he has worn many hats, including roles such as Quality Auditor, Coffee Trainer, Key Account Manager and Senior Business Development Manager. With such diverse experience, Ricardo has become a well-rounded professional in the coffee trade. His vast knowledge and expertise in the field make him a valuable asset to any team.
WE ARE VERY CONFIDENT THAT YOU WILL LOVE OUR COFFEES, WHICH ARE A RESULT OF METICULOUS BLENDING, ROASTING, TASTING AND SAMPLING, FROM A VARIETY OF ORIGINS, UNTIL WE WERE SURE WE GOT OUR PROFILES JUST RIGHT.
OUR COMMITMENT TO BUILDING COMMUNITY

Our belief is that we can build a community one cup at a time, whether here in London, with you our customers, or across the globe on the farms that produce our coffee beans.

But we are more than just a coffee fix, we have the vision to serve and educate through masterclasses and training programs.

Follow us on Facebook, Instagram, or LinkedIn to get regular updates on all our amazing products and services.

OUR COMMITMENT TO GREAT COFFEE

Taste: We are committed to crafting you exceptional coffee by roasting it in small batches.

We wanted to find a balance of old-school Italian with a lighter specialty grade blend using Guatemala and Ethiopia, not just the heavy Brazil. We call the result modern Neapolitan.

We can also provide you a fantastic range of four single origins directly from the farmers that are all quality graded so that you can charge accordingly. We will teach your staff to become coffee sommeliers and serve coffee at the table quickly and efficiently.

OUR COMMITMENT TO THE ENVIROMENT

Environment: Our Coffee is roasted using an environmentally friendly way, burning no fossil fuels creating a minimal carbon footprint.

Sourcing our Beans: We are committed to bringing you responsibly sourced, high-quality Arabica beans paying a higher price to our growers that helps invest back in their community.
FROM OUR COMMUNITY TO YOURS, HERE'S TO GREAT COFFEE!